Okay, so we made it through the San Diego rainy season; which is basically one week of torrential downpour, after a super long drought. This not only has made our local hillsides look like a glorious green scene from "The Sound of Music", but has boosted the harvest of all sorts of gorgeous fruit. For those of us who love to cook and are trying to make sure we get our "5 a day" fruit and vegetable servings, there is no better time than now to grab our shopping bags, throw on some flip-flops and walk on over to the local market to grab some of those colorful beauties.
Color-Full Means Beauty-Full
Turns out that pretty to look at can also mean good for you. All of that deep rich color in fruits and vegetables, usually translates to deep rich nutrient value. We're talking antioxidants and nutrients that help growth of new cells and bones, protect against infections and regulate blood sugar and sex hormones. This week I decided to play with orange, red and blue. Showing up a little earlier in the season than usual are mangoes. You will see the little yellowish orange ones in stores everywhere nowadays. Like their other orange colored friends they are a great source of vitamins A and C, as well as having quite a bit of fiber. Red and blue are represented by berries- raspberries and blackberries. All berries are excellent sources of immune system supporting vitamin C. Raspberries also give us 41% of the daily recommended intake of manganese. Blackberries (count as blue) kick in a good amount of vitamin K.
Simple – Good Dinner & An Evil Cocktail
Yep, that's right. After all of this health talk I will give you the recipe for my delicious Moroccan Spiced Chicken Breast with Cashews & Mango Apricot Sauce. It is served along side a crunchy salad of arugula, Asian pears, queso fresco and basil. So healthy, yes? But, in true Zhee Zhee fashion, I must also give you the recipe for another kind of sauce..my fresh and quick Berry Thyme Rum Cooler. Hey, what can I say? I dance between the gardens of good and evil. I am giving you permission to do the same. Head on over to the market, pick up some seasonal produce (for this one you need mangoes, Asian pears, cucumbers, berries and arugula). Then swing by the liquor store on your way home for some good quality rum and sparkling water. Now all you have to do is invite a friend over to share in this simple good dinner and evil cocktail.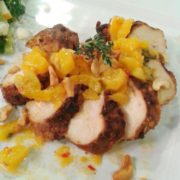 Moroccan Spiced Chicken with Cashews & Mango Apricot Sauce
2017-03-19 14:14:33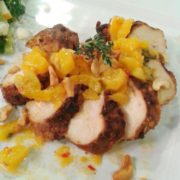 Serves 4
Quick and easy chicken dish with the perfect balance of sweet and spicy, served along side a fresh salad of Asian pears & Arugula.
For the chicken
1 teaspoon each ground cumin, coriander, cinnamon, ginger, chili flakes
1 1/2 teaspoons kosher salt
3 large cloves garlic, minced
1 capful of soy sauce or tamari
4 small chicken breasts
olive oil for sauteeing and marinade
handful of toasted cashews, roughly chopped
For the sauce
1 1/2 cup fresh mango, medium diced
5 dried apricots, finely chopped
zest and juice of 1 orange
3 Tablespoons rice vinegar
1 cup chicken broth
1/2 teaspoon salt
1/4 teaspoon cayenne pepper
1 teaspoon fresh thyme leaves
Salad
1 large Asian pear, finely julienne
1 meditarranean cucumber, finely julienne
1 handful of crumbled queso fresco
4-5 basil leaves, chiffonade
4 big handfuls baby arugula
2 Tablespoons each rice vinegar and olive oil
salt and pepper
For the chicken
Toss the chicken breasts in a large bowl with all of the spices, salt, garlic and a drizzle of olive oil. Let it sit for about 15 minutes.
Heat a small amount of olive oil in a skillet. Cook the chicken for 4 minutes on each side, then transfer to a sheet pan and bake for 15 minutes in a 425 degree oven. Remove it from the oven, cover very loosely with foil and let it rest at least 5 minutes before slicing.
Meanwhile turn the heat back on the skillet (without washing it!) and get ready to make the sauce.
For the sauce
Add all sauce ingredients to the hot chicken skillet. Use a wooden spoon to scrape up any of the tasty bits from the bottom of the pan, so it gives more flavor to the sauce.
Bring it all to a boil, then turn the heat down and simmer until the liquid has reduced by half.
For plating
Toss together salad ingredients. Place some salad in the center of a large plate. Arrange slices of chicken around it and top with one fourth of the sauce. Sprinkle with toasted cashews.
Notes
*Go to my website homepage and scroll down to watch the video of my demonstrating this recipe on San Diego Living.
The Flavor Conspiracy http://flavorconspiracy.com/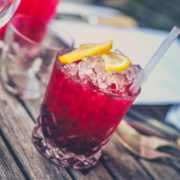 Zhee Zhee's Berry Thyme Rum Cooler
2017-03-19 14:47:34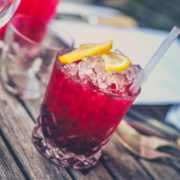 Serves 4
Get your cocktail on at the same time that your body is receiving a big dose of antioxidants with this refreshing fruity rum cooler.
Ingredients
1 pint blackberries
1 pint raspberries
1TB fresh thyme leaves
4 TB coconut sugar
1 quart sparkling water
1 cup (or more) good quality rum
juice and zest of a lemon
ice
fresh lemon slices and whole berries for garnish
Instructions
Set 4 raspberries and 4 blackberries aside for garnish. Add remaining berries, coconut sugar, lemon and fresh thyme leaves to a large pitcher. Use a muddler or a potato masher to smoosh it all together, but make sure not to totally puree it.
Stir in rum and sparkling water.
Pour into pint glasses full of ice, garnish with fresh berries, lemon wedges and thyme sprigs.
Notes
Feel free to add strawberries and blue berries to the mix.
I like to make this cocktail by the gallon, without the sparkling water. That way I can take it to a party or picnic and then add the sparkling water to each glass just before serving.
*This also makes an extra yummy champagne cocktail, if you use champagne instead of sparkling water.
The Flavor Conspiracy http://flavorconspiracy.com/