COOKING LESSONS
I love to share my knowledge and passion for cooking with people…after all a major part of my vision in creating The Flavor Conspiracy, included conspiring with others on my tasty journey. For me, nothing brings a greater feeling of joy and togetherness than good company, laughter and great food. I have been teaching culinary arts and food nutrition for over 11 years, to both adults and teens. My students have ranged from first timers, and those who claim they "can't cook", to fellow foodies and chefs. Whether you are looking to learn about healthier ways to cook, learn some recipes for a specific diet (gluten free, vegan, paleo, FODMAP), or just want get to know how to make some of my funky fresh, from-scratch recipes (and of course eat all of the finished product); check out the two types of cooking lessons offered.
PRIVATE INSTRUCTION IN YOUR CASA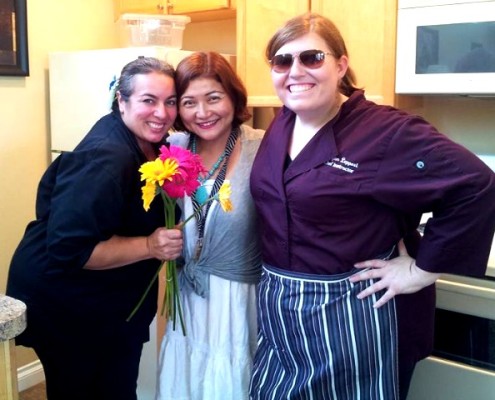 If you would like to be a co-conspirator and receive hands-on instruction in the privacy of your own home, I can customize a delicious learning experience for you.
Why not add to your own cooking repertoire, or make a party out of it for you and a few of your friends. I will bring the ingredients and recipes for a fabulous four-course meal, some local artisan bread & my own infused oil, plus the makings for a Flavor Conspiracy original froofroo cocktail.
Price: $500 for up to two people, $60 each additional person (maximum 8). Each participant will:
Receive a recipe packet ( I use all of my own original recipes)
Receive knife skills instruction (the most important key skill that all chefs use)
Experience an interactive cooking demonstration approximately 3 hours (with all of my tips and antidotes)
Dine on a four-course meal, progressive style (served on platters, as each course is ready)
Enjoy preliminary bread and infused oil tasting, with special libation.
Keep enjoying the food, as there are always leftovers to be packed into your fridge.
Have an awesome time learning how to cook, explore, create and share the deliciousness!
Classes can be totally customizable. If there is something you have always wanted to learn (anything besides pastry….I am not a pastry chef, but do have some pastry chefs in my mix that I can refer you to.) The class is not limited to four course menu…some of my clients have chosen to learn how to make four different soups or a whole class of just appetizers/tapas, instead. Other possibilities could include: sushi making, international cuisine, or a seasonal farmers market basket where we cook four dishes from one basket of local farmers market finds.
ZHEE ZHEE'S POP-UP COOKING SCHOOL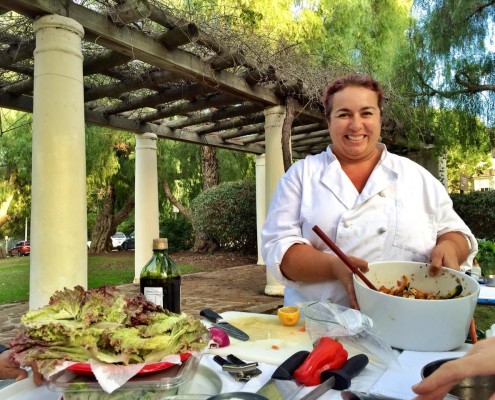 We live in San Diego! The weather is almost perfect year round, and we have some of the most beautiful outdoor community spaces in the world- Balboa Park, La Jolla, Presidio Park, the beaches, and all of the groovy little neighborhood parks that only the true locals know about.
I couldn't think of a more delicious way to appreciate our blessed SoCal environment, than to pack up my camp stove and cooking gear, grab some fresh ingredients and create open-air cooking demos around town.
I call it Zhee Zhee's Pop-Up Cooking School. You bring the picnic blanket and a chair. I make the handcrafted food, prepared with laughter and love!
Sign up for The Flavor Conspiracy Club monthly letter. I will announce where and when the next class will be taking place. You will be able to sign up and pay for the class online with a credit or debit card.
On the day of class you show up with an empty stomach, a love for food, a chair & picnic blanket, plus the desire to learn and share in an unconventional classroom.
Each participant will: receive a recipe packet, experience a demo-style cooking class, and chow down on a delicious, communal style four-course meal—prepared right in front of the class.
I will also provide some type of preliminary snacky while you watch the demo, and one of my agua fresca elixirs (peeps can bring whatever else they wish to embibe).