Whoa, talk about an amazing come back…Those Patriots really pulled it off in an exciting way this year! I'm not the big football enthusiast. But, I do love to make food for my many football enthusiast friends during Super Bowl. Generally, I take advantage of the end of football season to socialize, feed my people evil delicious goodies, and drink a little too much. This year I didn't partake in Super Bowl festivities. However, I did receive the perfect opportunity to bring back a classic favorite appetizer that both teams could enjoy.
Flavor Conspiracy Chef Emergency!
The phone buzzed. It was an S.O.S. message from one of my favorite New England fan friends, Anne Rauch (who, btw, happens to be an awesome cook even without my help). The message went like this: "Zhee Zhee, I have a chef emergency. Been invited to a potluck on Sunday with lots of chefs on the guest list. Its a Super Bowl party. I said I would make crab cakes because I'm a New England fan! Do you have an easy recipe you can share?"
It is precisely this kind of message that brings a smile to my face and perks my ears up. You had me at "chef emergency". Just to share a bit about my food brain: I have this weird talent for knowing flavors and recalling textures and ingredients. If I have made or eaten something at any point in my life, I am able to sit down and type a recipe right off the top of my head, with measurements and all. I guess it is kind of like my foodie super hero power.
Use Those Foodie Super Hero Powers
Chef Zhee Zhee to the rescue! I sat down, recalled my favorite crab cakes, and typed out a recipe, including a quick and easy sauce to go with. I sent it right over to Anne. Her crab cake making adventure was a success, they were a hit, and I just loved being able to share the recipe. Of course receiving praise and the awesome compliment from her "Flavor Conspiracy can transform the most hum drum lawyer into a Kitchen Boss." was the best part.
Thanks, Anne for your help request, Congrats to the Pats and I am sharing the winning recipe with you all, plus her pic of the finished dish.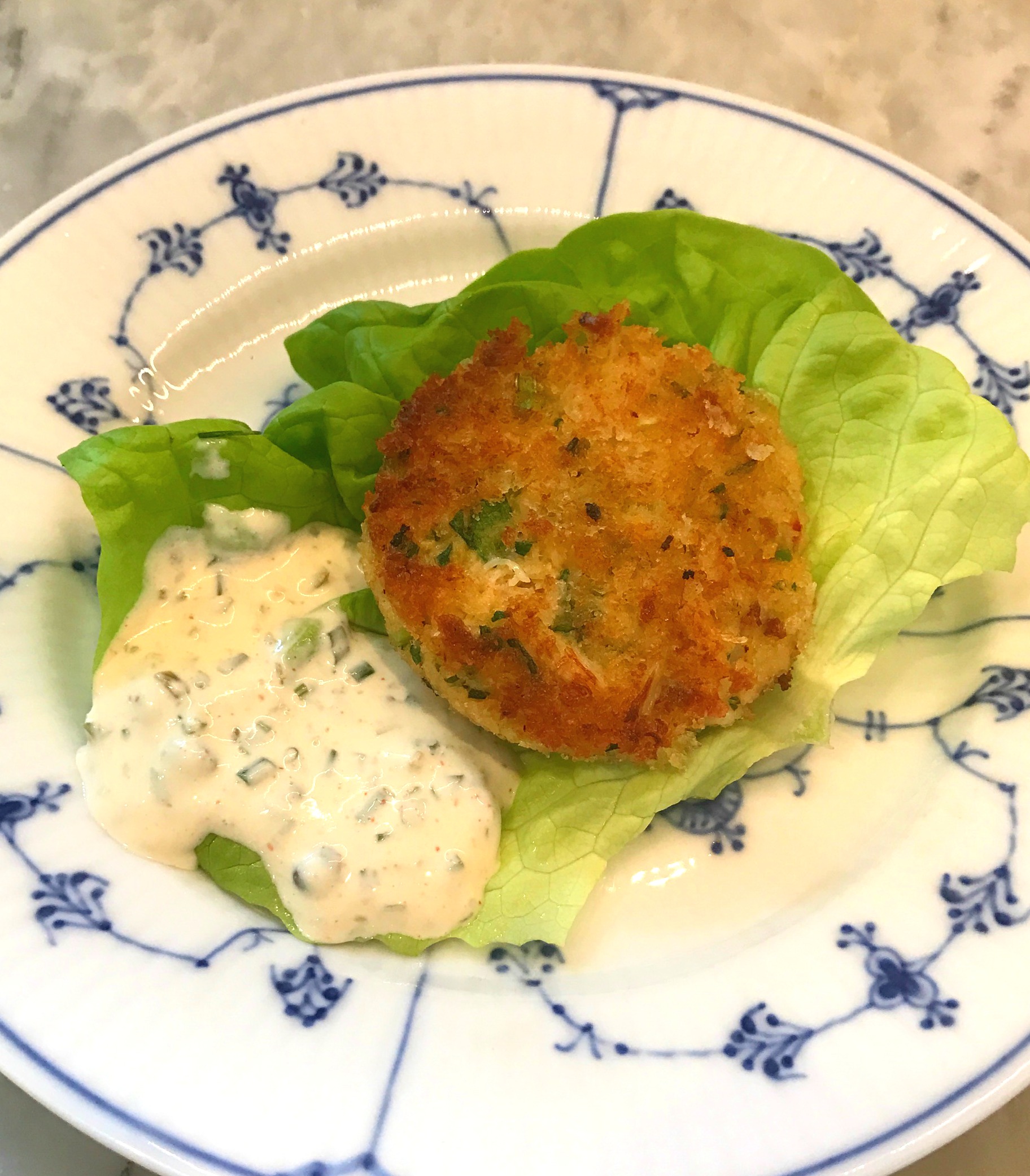 Crab Cakes with Lemon Caper Creme Fraiche
2017-02-08 14:18:50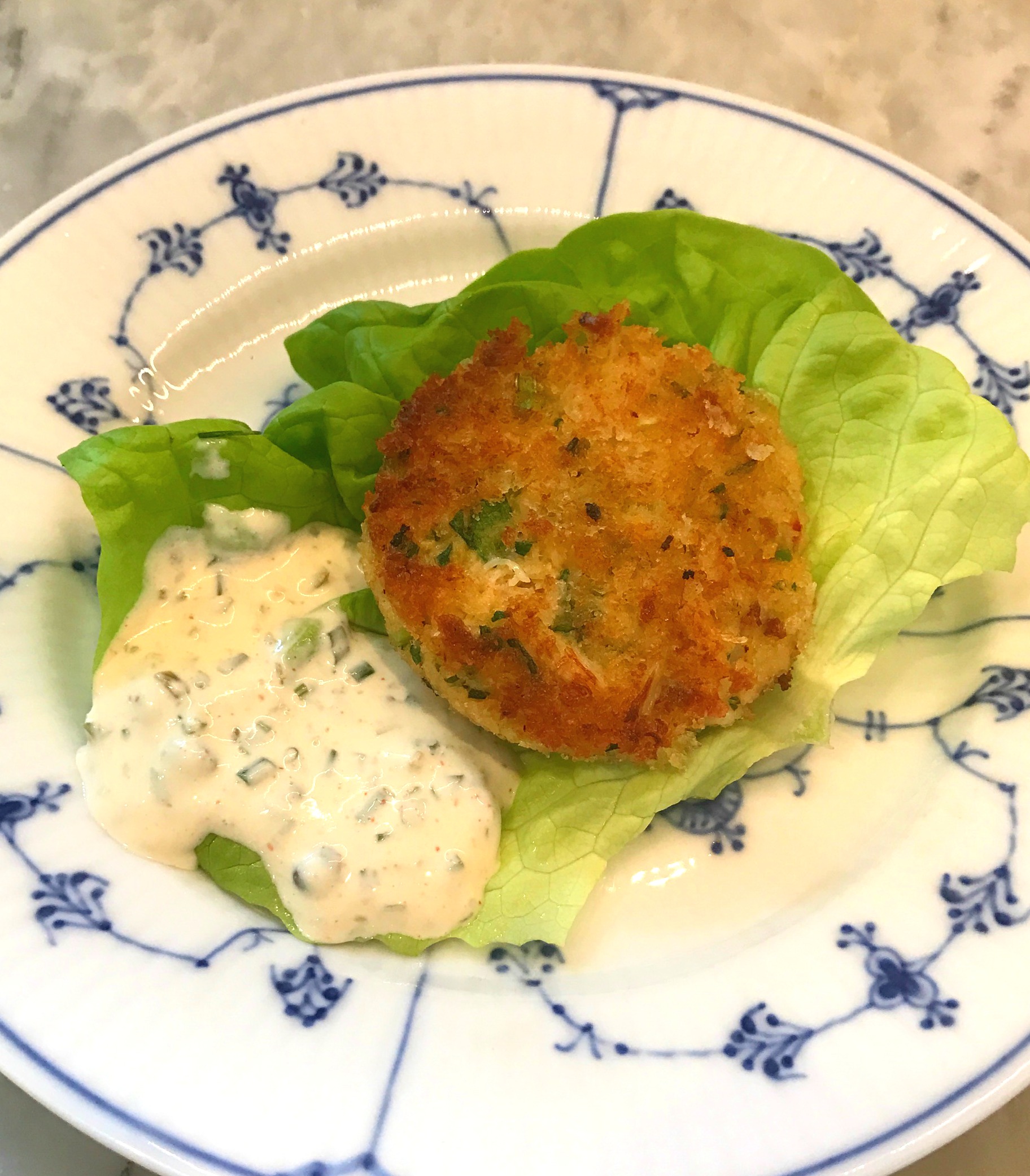 Easy to make crab cakes. You can mix and shape them a day ahead, then sear and bake them just before serving. The sauce is tangy and fresh, with just a little sweetness from the addition of minced gherkins.
For the cakes
1 lb. cooked crab meat (combination lump and claw)
1/4 cup melted butter
1/4 cup creme fraiche (much better than mayo)
1 TB dijon mustard
1/4 cup chopped fresh chives
1/4 cup minced fresh parsley
zest and juice of a lemon
1/4 cup finely minced celery
1/4 cup freshly grated parmesan
1/4 tsp cayenne pepper
good sprinkle of salt and freshly cracked black pepper
splash of Tabasco
1/2 cup panko bread crumbs (these keep it light and not too bready...I hate bready crab cakes)
extra panko for lightly coating outside of cakes
For the sauce
2 TB each minced capers and gherkins
4 TB minced chives
1/2 cup creme fraiche
4 TB lemon juice
1 Tablespoon Dijon mustard
sprinkle salt and cayenne
Instructions
Toss all ingredients in a bowl, very lightly (Don't over mix and mush it too much because it you want to have some good crab pieces still). Form into cakes, about 2 Tablespoons each.
Take about a cup or so of extra panko and place it on a plate. Press the cakes lightly in the panko. Transfer to a sheet pan and chill for at least 2 hours (or over night).
Option 1 for cooking: Sear in a hot pan with a little oil for 1 minute on each side, then transfer to a 425 degree oven for 10 minutes. OR Place the cakes on a sheet pan, lined with buttered parchment and bake at 450 degrees for 10-15 minutes til golden. *The first option gives a crispier outside, but the second option is easy/quick no fuss.
For the sauce: whisk it all together and serve a teaspoon on each cake.
Notes
Fresh crab, cracked right out of the shell is always preferable. But a great alternative is pasteurized crab meat that you can find in the refrigerated section of the store in a tub or can. This is different from a canned product that you would find in the canned tuna section of the store (do not get that one!). Instead it is cooked sweet crab meat, ready for you to use.
I like to do a mixture of claw meat, which is very sweet and flavorful; and lump or jumbo lump, which has the nice big pieces. Always make sure to go through the meat with your fingers to remove any cartilage or shell bits before mixing with the rest of the ingredients.
The Flavor Conspiracy http://flavorconspiracy.com/