PSST … Want a little from my Secret Stash?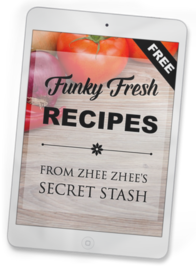 One FREE

Funky Fresh

Recipe Per Month
Sign up to receive a monthly helping of FREE Funky Fresh Recipes from Zhee Zhee's Secret Stash.
I create food that follows a more open, groovy, colorful approach to eating. Taking classic favorites and giving them a boost of super foods, colorful fruits, veggies, fresh herbs, spices. Magically creating dishes that are bold, fun, lower in sugar, higher in fiber, full of intense flavor.