Happy Days Are Here Again!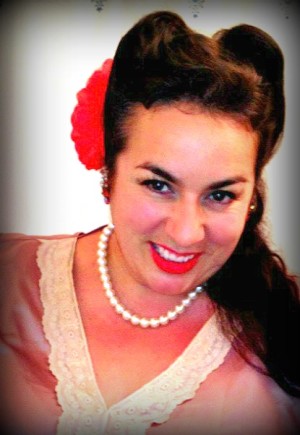 So I am in my early forties and finding myself feeling nostalgic and reminiscing with my friends (many of which have been with me since elementary school) much more often these days. I mean isn't that what we do at this age – talk about "back in the day" and laugh together till wee hours in the night?
The other night we were reminiscing about one of my favorite TV shows from "back in the day", Happy Days. For those of you too young to have seen it, it was a family comedy that took place in the 50's with great music and teenage romance and all that good stuff. This got me to scheming about my next themed party.
My people are always game for a party that involves yummy food and drink, but especially one that involves dressing in costume. So, I am getting motivated to plan a Nostalgia Retro Cocktail Party, including all of the retro cocktails, 50's dress up and music, followed by outdoor all night viewing of the DVD set of Happy Days episodes.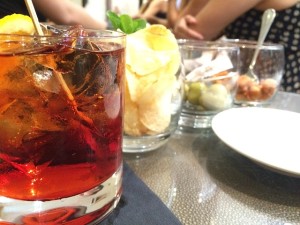 The cuisine from the 50's wasn't exactly health conscious, and so much of it included oddly shaped and formed bits of convenience meats and cheeses. This was the time, mind you, when TV dinners, spam and processed cheese "food" were running rampant in the kitchens of house wives all over America. Meat loaf, deviled eggs, tater tots, molded jello desserts and cheese logs were on the menu for most dinner parties.
So, I am going to do my best to honor these time tested menu items at my party. But of course, in true Flavor Conspiracy style, I will be creating slightly more healthful versions of the classics; using fresh natural ingredients and sneaking in more of my favorite super foods.
On the menu:
Coconut Mango Jello Shots – From scratch, using fresh fruit, lite coconut milk and coconut sugar in place of refined white sugar.
Deviled Eggs – chock full of minced homemade pickles, swap in Greek yogurt in place of mayo, topped with crispy prosciutto and chives
Tater Tots – with added cauliflower and parsnip in the mix
Mini Meatloaves – my turkey meatballs with tons of veggies, fresh herbs and oats instead of bread crumbs
Cheese Logs – swapped out the processed cheese product and use low-fat cream cheese with sharp cheddar, feta and a toasted nut and flax seed crust
I can't wait to get this party started!!! So I have already started playing around with my recipes. Below are two that I will share as a teaser. After I have the party, I will post pics of the final shindig.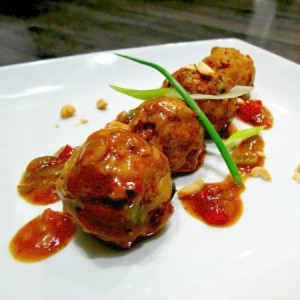 Zhee Zhee's Turkey Meatballs (a.k.a. Mini Meatloaves)
2015-03-17 23:39:09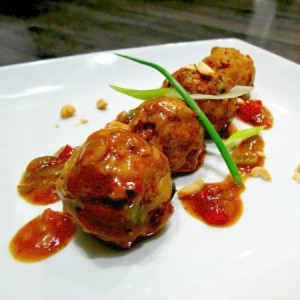 Mini Meatloaves with tons of veggies, fresh herbs and oats instead of bread crumbs.
Ingredients
1 pound ground turkey
3 cloves garlic, minced
1 c. small diced onion
1 c. each grated zucchini and carrot
1 c. rolled oats
1 egg white
1 TB each tamari, balsamic, Worcestershire sauce
1 tsp. kosher salt
1 tsp. dried oregano
2 tsp. each minced fresh oregano and thyme
Chili flakes
Instructions
Meatballs - In a sauté pan, caramelize onions and carrots, then stir in zucchini and garlic. Cook for 1 more minute, and transfer to a bowl with remaining ingredients.
Form mixture into balls (about 1 TB each). Place them on a sheet pan lined with greased foil, about an inch apart. Bake at 425 degrees until browned…15 minutes. If you are making mini meat loaves, divide mixture into greased muffin tin and bake for 20-25 minutes.
To serve - Ladle some of your favorite warm marinara on the bottom of the platter, then place the meatballs down and sprinkle with scallions (and it may sound strange, but I love to also sprinkle with chopped cashews or pine nuts).
Notes
I sometimes just make a very quick fresh tomato sauce: Sauté 1 c. onion and 3 cloves garlic in 2 TB olive oil, until very caramelized (about 6 minutes). Stir in ¼ c. red wine and 1 TB balsamic with 1 tsp. kosher salt and ½ tsp. chili flakes. When liquid is almost evaporated add 3 cups diced roma tomatoes and cook until the tomatoes start to melt. Puree in a blender with a couple pinches of dry basil and a couple of fresh basil leaves.
The Flavor Conspiracy http://flavorconspiracy.com/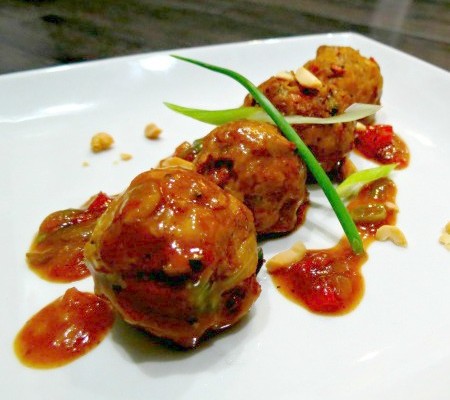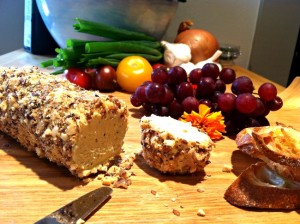 Retro Cheese Log Makeover
2015-03-17 23:45:17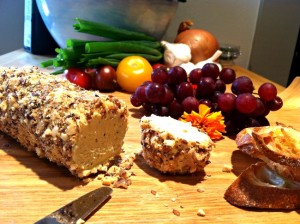 I'm swapping out the processed cheese product and use low-fat cream cheese with sharp cheddar, feta and a toasted nut and flax seed crust.
Ingredients
8 oz. Neufchatel (1/3 less fat cream cheese)
4 oz. feta cheese
8 oz. shredded sharp cheddar
1 TB plain nonfat yogurt
1 tsp. fresh thyme leaves
4 TB fresh Italian parsley leaves
2 cloves garlic
1 TB Worcestershire sauce
1 tsp. kosher salt
Coating Ingredients
1/2 c. walnut pieces, toasted
1/2 c. almond slivers, toasted
3 TB flax seeds
1 TB minced rosemary
1 tsp. each kosher salt, black pepper and smoked paprika
Instructions
Place coating ingredients in a food processor, and pulse until the nuts are very finely chopped. Transfer to a large plate and set aside.
Add thyme, parsley, cheddar and garlic to the food processor. Process until it is all finely combined. Add remaining ingredients, except for the coating. Turn the machine back on and let it puree until everything is totally smooth.
Divide the cheese mixture evenly between two pieces of plastic wrap (about 12"x 12")…form the cheese mixture into logs, approximately 7 inches long and maybe 2 inches in diameter. Use the plastic wrap to form the logs evenly and twist the wrap on the ends. Chill it for 20 minutes in the fridge.
Carefully unwrap the cheese logs and roll each one in the coating, so that they have an even layer of toasted nuts and seeds. Make sure to press the nuts into the logs, so that the layer is quite thick, as well. Serve on a platter with crackers or crostini.
Notes
Alternative, which I almost prefer, is to form the cheese mixture into individual truffle sized balls, then chill and coat with nuts. You can serve individual cheese balls on a small bed of arugula salad with bread sticks or elongated crouton of rustic bread.
The Flavor Conspiracy http://flavorconspiracy.com/