I can't help it, folks! Its hotter than a witch's you-know-what. I'm sweating more than I ever cared to. All I can do is keep singing songs about the heat; like "Hot in Herre" (Nelly), "Summertime" (Dj Jazzy Jeff), "Hot Stuff" (Donna Summer) and "Drop It Like Its Hot" (Snoop Dogg). You know those tunes, reading this right now you have probably starting singing one. HaaHaa, now it will be stuck in your head, too!
The news and social media are full of posts and ads for how miserable the heat it is…I swear if I see one more fb post with a screen shot of the temperature! What can we do? We are spoiled San Diegans who freeze when the temperature goes below 65 and melt when it goes above 75. So, I have decided that I am going to embrace this heat, abandon caring what my naturally curly hair looks like in the humidity, switch to waterproof mascara so it won't melt down my face, make time to stop at the beach and jump in that ocean; and get back in the kitchen to create some fabulous recipes to "beat the heat"!
Chill Out!
Of course you don't feel like standing in front of a hot stove or oven, when you are already sweating your butt off. So what I do is make a few items that are great served cold, and can be made ahead of time; so I can do all my cooking one day and have a couple days worth of meals ready to go. This is something I like to do anyways, when I am trying to stay on a healthy track of eating. If I can cut up some veggies and fruit, cook off some protein and maybe a grain or two in the beginning of the week; it allows me to quickly put together tasty nutritious meals the rest of the days. The recipes I am sharing with you today are great because not only are they full of all sorts of healthful nutrient dense ingredients, but they are full of flavor and best served chilled. That's right, you have lunch or dinner ready to serve straight outta the fridge, so all you have to do is literally chill out and relax. While you are chillin', you best be checking out my delicious Agua Fresca Elixirs (see blog post from July). Right about now, my super refreshing Watermelon Mint Agua Fresca is calling your name.
Salads That Eat Like A Meal
I'm always surprised when I go to someone's house for dinner and they say they are serving salad with the meal, and all they have is a bowl of lettuce and a bottle of dressing. At my casa I use salad as an opportunity to grab all of the bits of veggies and fruit that need to get eaten soon. I add fresh herbs, toasted nuts and seeds and even roasted or sauteed veggies. My salads eat more like a meal, with a variety of colors and textures that give your mouth some entertainment; so you actually feel satisfied after eating it. Two of my "beat the heat" recipes I created for this week are Grilled Shrimp on White Bean Insalata Caprese and Seared Albacore on Soba Noodle Salad. My version of Insalata Caprese goes beyond a plate of mozzarella with tomatoes and basil, by adding crunchy red onions and hearty high fiber/high protein white beans; tossed with a garlicky lemon dressing and citrus marinated grilled shrimp. I go to my favorite fish monger (Catalina Offshore) and grab some local fresh albacore, sear it and serve it on my alternative to pasta salad: Soba Noodle Salad. Rather than being mostly pasta, over half of the bowl is filled with a colorful variety of organic veggies, fresh cilantro and a gingery peach dressing.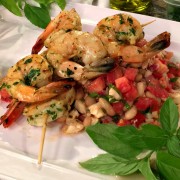 Grilled Shrimp with White Bean Insalata Caprese
2016-02-19 00:52:03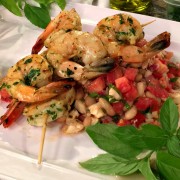 Serves 4
This version of Caprese salad: basil, mozzarella and vine ripe tomatoes is enhanced by crunchy red onions, fiber/protein rich white beans and a garlicky lemon dressing. Topped with citrus marinated grilled shrimp, it becomes a satisfying meal, perfect for hot weather.
For the salad
• 1 can white beans, rinsed and drained
• 2 roma tomatoes, small diced
• ½ c. small diced red onion
• 2 cloves garlic, minced to a paste
• 2 Tablespoons extra virgin olive oil
• Juice of 1 lemon
• 4-6 basil leaves, chiffonade
• 8 oz. mozzarella, small diced
• Kosher salt, chili flakes and black pepper
• ½ c. finely minced parsley
For the Shrimp
• ½ tsp. chili flakes
• 1 tsp. kosher salt
• Grated zest of 1 lemon
• Handful of chopped parsley
• 1 clove garlic, minced to a paste
• Olive oil, enough to lightly coat
• 1 pound jumbo raw shrimp (16/20 size), peeled and deveined, tails on
** eight small bamboo skewers, soaked in water for at least an hour**
For the salad
Toss all ingredients together with a liberal sprinkle of salt, chili flakes and pepper. Cover and chill for few minutes before serving. Better yet, let it chill over night and serve the next day.
For the shrimp
Toss garlic, parsley, lemon zest and chili flakes with about 3 Tablespoons of olive oil. Mix well with a fork, then add shrimp. Chill and marinate for about 20 minutes.
Fire your grill up and get it nice and hot. Add two shrimp to each skewer, making sure to stretch them out a bit. Grill the shrimp for about 3-4 minutes on each side, or until they are opaque. Transfer to a plate and tent with foil.
Plating
Easy, breezy...serve a cup or so of salad on each plate, top with two skewers of shrimp, garnish with more basil and a slice of lemon. Tada!
Notes
When buying shrimp, if you can't get them truly fresh from a local fish monger, buy them frozen. The ones at the grocery store are thawed, even when they call them fresh. They will go bad within a couple of days, so it is better to get them frozen and thaw them overnight in the fridge. Pat them dry with paper towels before marinating.
Shrimp are sold in sizes that are numbered according to how many are in a pound. Example: size 16/20 means that there are 16-20 in a pound. 21/25 means 21-25 in a pound. So the smaller the number, the bigger the shrimp. If you are lucky enough to get anything with a "U" in front, like U10 that means they are super big...only 10 in each pound.
The Flavor Conspiracy http://flavorconspiracy.com/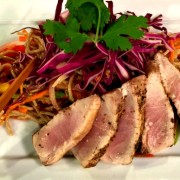 Seared Albacore with Asian Inspired Soba Noodle Salad
2016-02-19 01:26:51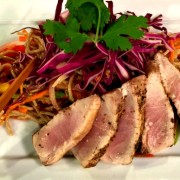 Serves 4
Fresh albacore is seared and served on a salad of chilled soba noodles, crispy julienne vegetables, cilantro, toasted sesame seeds and ginger peach dressing.
For the Fish and Salad
• 8 oz. soba noodles, cooked and chilled
• 1 pound Albacore Tuna, cut into 4 oz portions
• ¼ c. toasted sesame seeds
• Kosher salt and pepper
• Handful of snow peas, julienne
• 1 c. finely julienne bell pepper
• 1 c. finely julienne red onion
• 1 c. finely julienne carrot
• 1 c. finely julienne red cabbage
• Handful of cilantro, rough chopped
For the dressing
• 1 large peach or nectarine, finely chopped
• Zest of 1 orange
• 4 tsp. Dijon mustard
• 2 cloves garlic, minced
• ¼ c. apple cider vinegar
• 1 heaping TB grated fresh ginger
• 3 TB low sodium soy sauce or tamari
• ½ tsp. chili flakes
• ¼ c. grapeseed oil
Instructions
Season fish well with salt and pepper. Heat a good drizzle of oil in a large saute pan. When it is very hot, add fish and cook for about 40 seconds on each side (for medium rare), or 1 minute on each side (for medium).
Make dressing: Whisk all ingredients except oil in a large bowl. While whisking vigoursly, gradually drizzle in oil. Season with salt and pepper if desired.
Toss dressing with chilled soba noodles, fresh vegetables, cilantro and most of the sesame seeds. Cover and chill for at least 20 minutes (or as long as two days).
To serve: Top with sliced seared fish and sprinkle with remaining toasted sesame seeds.
Notes
If you can't get Albacore, try Yellowfin tuna or Yellowtail. Or heck sub grilled chicken!
The salad is so yummy and filling, you can eat it alone, serve it over a bed of greens, or add it to a wrap. I have made it for my vegetarian friends and topped it with sauteed tamari marinated tofu.
To give it a Thai style flare, use chopped roasted peanuts, fresh basil and mint and a splash of fish sauce.
The Flavor Conspiracy http://flavorconspiracy.com/