Drink More Water, Detoxify Your Body, Take More Vitamin C, Stay Hydrated, Get Those Greens and Reds!
Sound familiar? I don't know about you, but those have all been on my "to-do list" for my wellness plan and health vision boards at some time or another. The thing is, that like so many others, I get all excited with awesome intensions, start drinking a ton of water, eating all of those healthy fruits and veggies, creating healthy habits….and then…I'm not sure what happens ( in the background that horrible horn from the game show plays when someone has just lost…whaw, whaww), and there I am fizzled out. I'm looking in the mirror at my skin, wondering why it isn't looking so good, asking myself why I didn't drink any water today, and starting another "to-do list" in the hopes of somehow getting remotivated to get back on track.

I Got The Fever For The Flavor!
If you love the flavor of plain old water, well, good for you. I make myself drink it, but sometimes I just need something more. I want something refreshing, flavorful, maybe slightly sweet…but I don't want something full of refined sugar and all sorts of unnatural ingredients. When I am creating a menu, I want to include some sort of drink that sparks people's taste buds and gets them ready for the meal they are just about to enjoy. I want to indulge in a beverage that very well could be turned into an evil cocktail, but can be enjoyed sans booze and that even has some health benefits. And, I don't always want a thick smoothie. This is where my favorite "agua fresca" elixirs come in. Inspired by the fruit "agua fresca" of Mexico (meaning fresh water), yet revamped so they contain a lot less sugar and most of the time a lot more of the beneficial and herbal ingredients that are super good for us. Finally herbs that were previously just used on plates as garnish, are getting their time in the spotlight for the amazing contribution they make to tummy, skin and immune health…like parsley and mint.



So, today I share with you three of my favorite elixirs that make my mouth and body very happy, served over ice, occasionally combined with my favorite champagne or sparkling water (or lets face it..vodka or rum)… or just on their own. The first one has been known in my circle of friends and clients as Zhee Zhee's Crazy Green Drink, next is Watermelon Lime Refresher and the third is a super simple Lemon Grass Almost Iced Tea.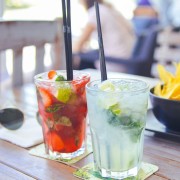 Trio of Agua Fresca Elixirs
2015-07-24 02:38:14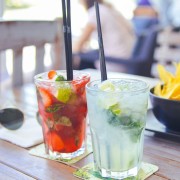 Three refreshing healthful drinks that are sure to quench your thirst.
Zhee Zhee's Crazy Green Drink
1 bunch Italian parsley, rough chopped
2 c. mint leaves
juice from 2 limes
1 chunk of ginger root, approx. 2 inch
2 apples cut in chunks
1/2 of a European cucumber cut in chunks
optional 4 Tablespoons honey, agave or 100% maple
Watermelon Lime Refresher
1 seedless watermelon, scooped out
juice from 3-4 limes
handful of mint leaves, torn
2 limes, sliced thin
handful of berries and sliced oranges
optional 4 Tablespoons agave, honey or 100%maple
Lemongrass Iced Tea
6 c. lemon grass leaves (the long green part)
zest and juice from 1 lemon
2 heaping Tablespoons of your favorite loose chamomile*
Zhee Zhee's Crazy Green Drink
Combine ingredients in a bowl. In two batches, puree on high speed in a blender with 4-5 cups of cold water in each batch. Let the blender run until all leaves are pureed and there are no chunks at all. Strain over ice. **This one is super great for detoxing, purification, digestion; and gives you an opportunity to throw in some other stuff like celery and spinach if you have it.**
Watermelon Lime Refresher
Puree watermelon with lime juice in a blender and strain it into a container. Place any pulp back in the blender and puree it with 4 cups of cold water, and optional sweet stuff. Add that unstrained into the container. Toss in the mint, slices of lime, oranges and berries. **This is the one that makes an especially nice watermelon mimosa or watermelon mojito.**
Lemongrass Iced Tea
Combine all in a pot with at least 8-10 cups of water. Bring to a boil, then simmer for 10 minutes. Turn the heat off and let it sit for an hour. Strain into a container and chill over ice. **This one is great for upset tummies, and doubles as a soothing astringent for your face**
Notes
*I usually substitute Envision Tea's "Snuggle" or "Nourish" tea for the chamomile. They are awesome organic teas created by a super tea alchemist friend and can be purchased on the products page of her website: elixifyyourlife.com
*I am type 2 diabetic, so I am used to unsweetened elixirs and appreciate the natural sweetness of herbs and fruits. If you like your drinks a bit sweeter I do suggest trying sugar alternatives such as agave, honey, maple or coconut sugar. They are still adding grams of sugar to your diet, but are lower glycemic and natural/little to no refining.
* On those days when I know I should be drinking more water and really going for the cleanse, mixing a 50/50 ratio of elixir to water makes it so much easier. I can down a couple gallons in a day. It Lowers the sugar intake even more, while making it so much more interesting than just plain water.
* Making these drinks using my recipe is great, but honestly, I want y'all to become more intuitive and add your own twists to them. Look in the fridge and see what you have that could be used- blue berries, tangerines, kiwis, kale, lettuce, or even fresh fennel.
The Flavor Conspiracy http://flavorconspiracy.com/