Here are some tips for ways to give your dessert recipes a healthy makeover:
Automatically cut out a third of the sugar from the recipe. Sugar not only plays a role of flavoring agent, but it also affects the texture of many baked goods. Removing a third of the sugar still allows it to do what it needs for the texture, but reduces the sweetness in a way that enhances the real star ingredients. I usually play around with the recipe the next time around and try reducing the sugar a bit more.
If it is a cake recipe, (after I cut out the third of the sugar) I replace half of the remaining sugar with either mashed banana or apple sauce.
Whatever sugar is left after the makeover I experiment with some of the alternative (not fake) sweeteners that are less refined and lower glycemic, such as agave, raw honey, stevia or coconut sugar. **Sugar grams are sugar grams, but the lower the glycemic index the more gradually it will enter your system and won't cause such extreme spikes in your blood's glucose levels. **Stevia alone shouldn't be used to replace all of the sugar because it doesn't bake well and can tend to have a weird aftertaste for some folks.
Remove the yolks from the whole eggs in the recipe and replace them with double the whites. Ex: 1 whole egg= 2 egg whites
Take advantage of the opportunity to replace some of the fats, like butter or shortening, with flax and coconut oil. And, again, if it is a cakey type of recipe, I replace some of the total fat with apple sauce or even nonfat plain yogurt. Ex: orginal recipe= 1 cup butter, makeover recipe= ¼ c. butter, ¼ c. coconut oil and ½ c. nonfat yogurt. **Keep in mind this is not going to work if you are trying to make homemade croissants or puff pastry. Let's face it, some of the classics are better off eaten from the old school recipe and just not eaten as often- who the heck wants a gluten-free-butter-free croissant?
Replace milk chocolate and semi-sweet chocolate chips with bittersweet or even unsweetened chocolate chips. You can always just chop up one of those high quality 82% cacao chocolate bars. The darker the chocolate the better it is for you, and it is actually more satisfying and rich in flavor (and antioxidants); so you aren't as tempted to eat as much.
I have started experimenting with roasting fruits and vegetables that are naturally sweet and making my own yummy desserts with them….like the Cranberry Apple Crumble dessert and Roasted Acorn Squash with Spiced Pears & Creme Fraiche. You not only get a sweet treat, but a boost of all sorts of nutrients and more dietary fiber.
Compliment desserts with an increased amount of spices that are naturally sweet and sugar free, such as: cinnamon, star anise, fennel, clove. Many of these spices are great for your digestive system. Cinnamon is known to help with blood sugar levels.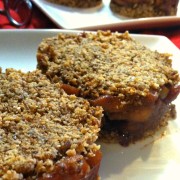 Cranberry Apple Crumble
2015-12-12 10:47:11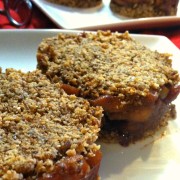 Serves 6
My healthier version of an apple cobbler that makes a delicious dessert and a scrumptious breakfast with yogurt.
filling
5 large apples, small diced, unpeeled
2 teaspoons cinnamon
1/4 teaspoon nutmeg
1 cup whole cranberries
pinch of salt
juice from 1 orange
1 teaspoon grated orange zest
1 Tablespoon real maple syrup
topping
1 cup rolled oats
1 cup almond meal
1/2 cup roughly chopped almonds or walnuts
4 TB coconut oil, melted
3 TB coconut sugar
1 teaspoon cinnamon
1 teaspoon grated fresh ginger
1 teaspoon pure vanilla extract
Instructions
Combine filling ingredients in a greased 13x9 baking pan. Place in a 375 degree oven for 20 minutes. Stir well, using a fork, pop the cranberries a bit.
Combine the topping ingredients in a bowl then spread over the roasted filling ingredients and return to the oven. Increase the heat to 425 degrees and bake for 10-15 minutes, or until golden and crunchy.
Notes
Can be served with whipped cream as a dessert, or topped with yogurt for breakfast.
To assemble the dessert as little individual portions, cover the filling pan with foil after the first 20 minutes and return it to the oven. Spread the topping on a sheet pan and bake it separately. Then for plating: use a ring mold to place a thin layer of topping on a plate, top with 1/2 cup of the filling and then top it with another thin layer of the topping. Remove the ring mold and serve with whipped cream.
The Flavor Conspiracy http://flavorconspiracy.com/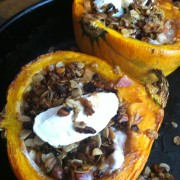 Roasted Acorn Squash with Spiced Pears & Creme Fraiche
2015-12-12 11:31:09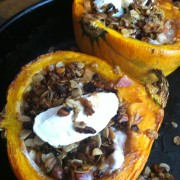 Serves 4
A warm dessert of roasted acorn squash with spicy cinnamon pears and creme fraiche, topped with a crunchy oat and almond streusel.
Ingredients
4 cups bosc pear, small diced
¼ teaspoon each ground ginger & cardamom
½ teaspoon ground cinnamon
1 Tablespoon unsalted butter or coconut oil
2 Tablespoon raw honey or 100% pure maple syrup
1 Tablespoon Grand Marnier or Cointreau liquor (optional)
½ teaspoon pure vanilla extract
fat pinch of kosher salt
4 Tablespoons crème fraiche or sour cream
Crunchy topping
¼ cup almond slivers
¼ cup rolled oats
1 Tablespoon coconut oil
Pinch of salt
1 Tablespoon raw honey
For the crunchy topping
Combine the topping ingredients together in a small baking dish or pie pan. Spread them out and bake at 375 degrees for 5 minutes. Stir and spread out again, then bake another 5-10 minutes, until golden and crunchy. *careful not to burn it*
For the squash
Turn the oven up to 400 degrees. Place squash in a large baking pan. Combine pears with coconut oil, vanilla, spices and a few pinches of salt. Distribute the mixture between the squash halves. Carefully pour about an inch of hot water into the pan. Cover it all with foil and roast for about 25 minutes.
Remove foil and stir the pears around, using a spoon. Drizzle some of the juices on the edges of the squash. Put the pan back in the oven and roast uncovered for another 15 minutes, until the squash is tender and the edges are caramelized. Remove from the oven and stir 1 or 2 teaspoons of the crème fraiche into the pears. Garnish with crunchy topping and serve with the remaining crème fraiche.
Notes
* If you can't find acorn squash, try Delicata, or even butternut squash. You can also do this with sweet potatoes, cut the in half and carve out the center a bit. Or just roast the sweet potato separately, and then top with the spiced pears and creme fraiche.
The Flavor Conspiracy http://flavorconspiracy.com/