FUNKY FRESH RECIPES FROM ZHEE ZHEE'S SECRET STASH
May Recipe : Requeson Enchiladas with Mole Verde

I have these wonderful memories as a little girl, of my father making these kind of delicate fresh enchiladas with steamed corn tortillas and requeson (a Mexican version of ricotta). He would top them with a fresh pickled onion and jalapeno mixture and a drizzle of mole. My mouth is watering as I am writing this folks. So this time you are getting a little glance inside Zhee Zhee's past.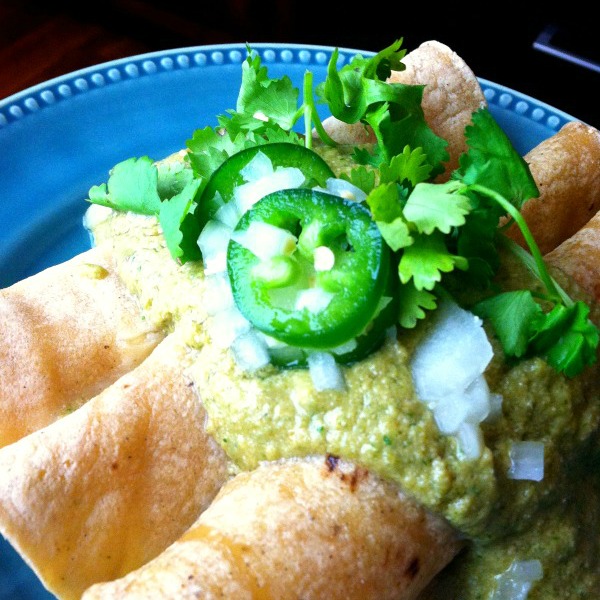 Requeson Enchiladas with Mole Verde
2015-05-03 12:18:26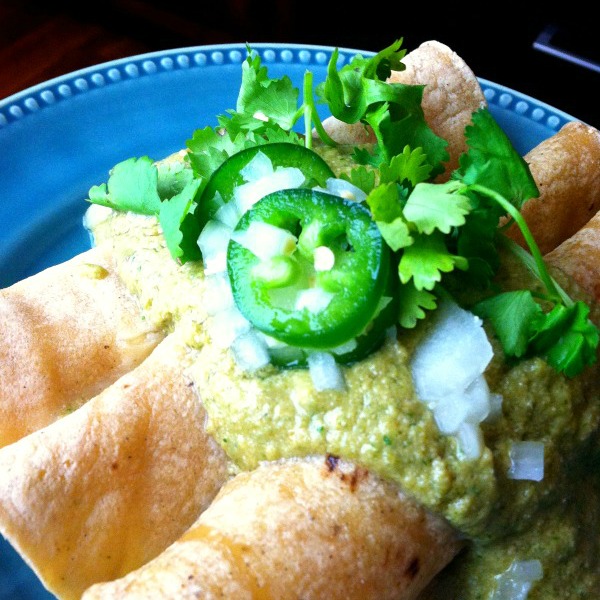 Serves 4
The Mole Verde
4 large tomatillos, quartered
1 tsp. kosher salt
2 TB olive oil
8 cloves garlic, peeled whole
1 jalapeno, seeded and halved
3 c. vegetable or chicken broth, or just enough to cover
1 c. onion, small diced
3 c. Boston or romaine lettuce leaves, roughly chopped
¾ c. pepitas, toasted
Handful of cilantro, rough chopped
6 green onions, sliced thin
Half a bulb of fennel, sliced thin
Requeson Enchiladas
1 TB olive oil
1 clove garlic, minced
2 roma tomatoes, small diced
2 c. Requeson (or strained ricotta)
Kosher salt and pepper
8-10 Fresh corn tortillas
Garnish- in a bowl combine
1 c. small diced onion
Juice from 1 lime
2 TB water
1 tsp. kosher salt
1 jalapeno, sliced thin with seeds and all
Crumbled cotija cheese
Instructions
Mole Verde: In a sauce pot, sauté the garlic, onion and jalapeno with 2 TB olive oil for just a few minutes, until fragrant. Add all remaining ingredients, except pepitas. Bring it all to a boil, then reduce the heat and simmer until all vegetables are tender. Transfer everything to a blender and puree with the toasted pepitas. ** You may need to add a little broth to adjust the thickness of the sauce. Season with more salt if needed. Keep warm.
For the enchiladas: Mix the Requeson with the tomato, garlic and some salt and pepper. Place the tortillas on an upside down pie pan in a large sauté pan. Pour boiling water about half way up the pan. Cover and simmer until the tortillas are soft enough to roll without breaking, but not so soft they fall apart. Carefully transfer each tortilla to a plate. Fill each one with a few spoonful's of filling, roll them up. Pour warm mole over the enchiladas and sprinkle with cotija cheese. Top with a spoonful of pickled onions and jalapenos, making sure to drizzle some of the juice over the enchiladas.
The Flavor Conspiracy http://flavorconspiracy.com/
BONUS RECIPE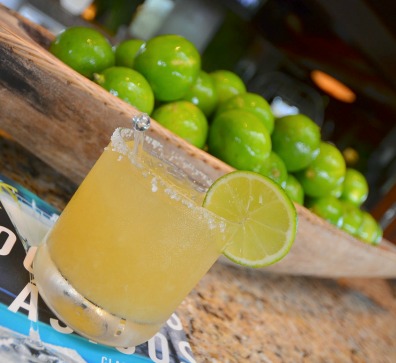 Zhee Zhee's Lower Sugar Margarita on The Rocks
In a salt rimmed 16 oz. glass of ice, add 2 shots good quality tequila, 1 shot grand manier, juice of a lime and juice of an orange…top with grated lime and orange zest and sparkling water, then stir and devour.