When my mouth is entertained and my belly is satisfied, I feel a sense of abundance and not deprivation; which in turn keeps me on the healthy eating track more often. Give your mouth the entertainment and crunchy satisfaction it has been looking for with my yummy (and gluten-free) version of "fried chicken" and slaw.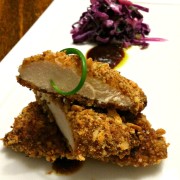 Smoky Almond Crusted Chicken with BBQ Dressing
2016-02-25 21:50:14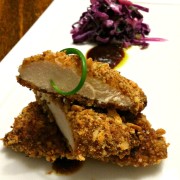 Serves 4
Gluten-free, crunchy and flavorful chicken crusted with smoky almonds and parmesan, served with a drizzle of bbq dressing.
For the chicken
• 1 pound boneless/skinless chicken breast, cut into strips- 1 inch wide & 3 inch long
• ½ cup non-fat plain yogurt
• 1 Tablespoon Dijon mustard
• ½ cup apple wood smoked almonds (or toasted almonds and ½ tsp. smoked paprika)
• 4 slices Udi's bread (or other gf brand)
• ¼ cup grated parmesan cheese
• Kosher salt and black pepper
• Small amount of olive oil
For the dressing
• 1 Tablespoon each Dijon mustard, Worcestershire sauce, balsamic vinegar and sugar free organic ketchup
• 1 teaspoon organic raw honey
• Salt and cracked black pepper
• ¼ teaspoon smoked paprika
• 6 Tablespoons extra virgin olive oil
Instructions
Break the bread into pieces in a food processor. Pulse the machine until it becomes bread crumbs. Lay them out on a sheet pan and bake for just 5 minutes in a 400 degree oven. Then return them to the food processor and let them cool for about 5 minutes. Add almonds and parmesan cheese. Pulse until the whole mixture becomes crumbs with still a few bits of almonds that are a little chunky. Transfer to a plate.
Prepare a sheet pan by lining it with foil, then placing a cooling rack and brushing a small amount of oil on the cooling rack. This will make it so the chicken gets crispier all over and not soggy on the bottom.
Toss chicken breast strips in a bowl with the Dijon, plain yogurt and a few pinches of salt and pepper. You want chicken to be coated lightly, but not big blobs of yogurt before it gets dipped in crumbs; so you may have to wipe a little off each one first. Next dip the chicken breast strips in almond bread crumb mixture and transfer them to the sheet pan. Bake at 425 degrees for 15-20 minutes, or until golden and crunchy on the outside and cooked through on the inside.
Whisk together dressing ingredients and drizzle on plate with chicken. Serve with slaw (recipe follows)
The Flavor Conspiracy http://flavorconspiracy.com/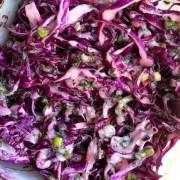 Red Cabbage Coleslaw with Creamy Cilantro Vinaigrette
2016-02-25 22:28:07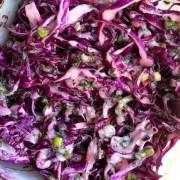 Crunchy red cabbage is tossed with scallions, garlic and a creamy cilantro vinaigrette, pairs perfectly with bbq.
Ingredients
• 1 watermelon radish (or 4 red radishes), finely julienned
• 2 green onions, sliced thin
• 1/2 cup finely minced cilantro
• 1 clove garlic minced
• 4-5 cups finely chiffonade red cabbage
• 2 TB each: red wine vinegar and olive oil
• 3 Tablespoons nonfat plain greek yogurt
• 1 TB each: lemon juice and honey
• 1 jalapeno, seeded and minced
* 1 teaspoon kosher salt
Instructions
Toss all ingredients together in a bowl.
Notes
Chiffonade is a cut that means to finely julienne something leafy (like basil leaves, cabbage leaves, etc...).
I usually shred carrots and turnips and sometimes even beets to add to this slaw. If you want to give it an Asian influence, use lime instead of lemon, rice vinegar instead of red wine vinegar. Then add a drizzle of sesame oil and soy sauce.
The Flavor Conspiracy http://flavorconspiracy.com/