Plan
So a major confession…I don't always practice what I preach. And this past year, was one of those years that was especially challenging for me when it came to doing what I know works to keep me feeling great with healthy eating. I am back in the game, baby! In order to combat the obstacles that sabotage a healthy eating lifestyle, we have to have a PLAN. You will save time, money and precious energy if you take a little time to plan what you will buy and eat. Best of all if you have those items in the fridge already prepped you are less apt to hit the drive-thru on the way home from a hectic day at work. I even make a mini plan now when I am going out to eat in a restaurant. I get the restaurant website, check out the menu and figure out what I will order that will be satisfying, yet nutritiously balanced. When the menus come to the table, I don't even look (so no impulse ordering of evil menu items). I immediately order a big sparkling water with extra lemon and then I make my planned food order. I often create my own meal by ordering an appetizer (within reason, folks…so not the chili cheese fries!), small salad and a side of something like roasted vegetables. It lets me indulge a little, but have a smaller portion of the evil stuff and a larger portion of good for me stuff. When going to a holiday potluck party, I make a big tray of something healthy and delicious to bring;that way I know that there is at least one thing I can indulge in at the party. I fill my plate with healthier choices first, then go to the "evil" goodies and choose just two that I can have a small amount of.
Shop
When it comes to shop/prep planning, the first thing I do is make sure I have some basic staple ingredients on hand (Click her for a list of my favorite pantry items). Next I decide what to get from each food group that I can use to make a variety of meals. Choosing just a few items makes it so I use pretty much everything, and I switch things up with different items the next week; so it keeps me trying new things. I am usually thinking mostly of dinner, because often times I am eating pretty much the same thing for breakfast or lunch or snacks. Just remember for snacks or breakfasts we are always keeping in mind that we are trying to stop buying processed pre-made items that are full of preservatives, artificial additives, etc. Think nuts and fruit, plain yogurt, items that only contain unrefined sugar, whole grain- low sugar cereals, real cheese (to be used sparingly) and whole grain or rice crackers. All of those types of ingredients aren't just healthy and yummy on their own, but can also be used to make other things.
My rule of thumb for weekly grocery shopping is to choose:
1 protein (chicken, turkey, beef, etc…)
1 grain (brown rice, quinoa, bulgur, wheat berries, barley)
5 kinds of vegetables (1 kind of lettuce, 2 red or orange vegetables, 2 green vegetables)
1 fresh herb
2 kinds of fruit
any items that I need to replace in the freezer or pantry
(Click here for a sample of one week of shop/prep planning.)
Prep
An important thing is what you do when you come home from shopping. I take a little time to wash all of my veggies. I then make a cup of tea, turn on some music and spend a couple hours prepping a few items. If you opened my sample of one week of shop/prep planning, you will see the various meals that use all of the items we shopped for. I kept the sample plan very simple, so it gives you a very basic idea. There are a few things that take the most time to make, if I am planning on making dinner from scratch every night. In this particular week I will pre-prep the following items:
Cut onions, shred carrots and zucchini (for cooking and salads), wash and cut about half the lettuce.
Cook off a big batch of brown rice (to be used for hot cereal, stir fried rice, brown rice pancakes and as a replacement for breadcrumbs in turkey meatballs)
Make a double 2 pound batch of baked turkey meatballs, making sure to use oats and cooked brown rice in place of breadcrumbs, adding at least 3 cups of sauteed shredded carrot and zucchini to the mix, and a ton of garlic. (the meatballs are then able to be used in turkey taco salad, meatball sandwiches, turkey chili, and fried rice).
Toast some walnuts, so they are ready to be crumbled on top of pretty much anything.
Things like mincing garlic and fresh herbs, or cutting things like apples and bell peppers will be done just before I cook.
Waste Nothing
Now that you have everything in the fridge and those few things prepped, you are set for making quick and easy meals. At the end of the week you will most likely have some cut up vegetables, garlic and herbs leftover. This is perfect because it allows you to pull out those produce drawers, gather all of the little remnants of veggies and herbs, and make a hearty soup. Even better is if we are talking about the morning after a holiday, chances are there are some leftover mashed potatoes or roasted vegetables; which are exactly what we need for this soup (see recipe below). This "Waste Nothing Vegetable Soup" is creamy and savory and a little different every time you make it because you are using whatever you have in the fridge. And oh the piles of leftover turkey (or tofurkey or roasted tofu)…instead of eating it plain or in a sandwich, how about a warm biscuit topped pot pie? Making my biscuit dough is super easy (and way healthier than store bought). It is the perfect way to top a pot pie so you get just enough golden crust with each serving. It cooks really fast, and cuts those carbs and fat in half, when comparing it to the classic double pastry crust.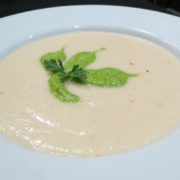 Waste Nothing Vegetable Soup
2016-12-25 12:01:59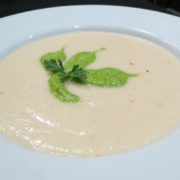 Serves 6
A hearty, creamy, savory soup you can make using bits and pieces of vegetables you have in the refrigerator at the end of the week. Different vegetables and parts of vegetables cook at different rates, so pay attention to the notes in each step as to when you add them to the pot.
Ingredients
• 1 c. small diced onion
• 3 clove minced garlic
• 2 c. small diced potato or mashed potatoes
• 1 TB butter
• 4 c. chopped (1/2 inch chunks) vegetables (see notes*)
• 1 tsp. kosher salt
• ¼ tsp. cayenne or red chili flakes
• 1 cup shredded sharp cheddar cheese
• 1 TB fresh minced thyme, rosemary or sage
• 3 oz. nuefuchatel or 1/2 cup plain yogurt or sour cream
• 6 cups chicken stock
• juice of a lemon
Instructions
Melt butter in a sauce pot. Sauté onion for 5 minutes over high heat, until it starts to caramelize on the edges. Then add garlic, salt and cayenne. Cook for 2 minutes longer (this creates a flavor base).
Add diced potato, along with herbs, chicken broth and any hard vegetables (broccoli stems, cauliflower, hard squash, root vegetables). If you are using mashed potatoes, wait to add them in the next step. Cook uncovered
When potatoes and hard vegetables are fork tender, add the delicate vegetables (broccoli flowers, leafy greens, bell peppers, left over mashed potatoes, or left over roasted vegetables) and continue cooking for 5 more minutes.
Stir in Neufchatel, yogurt or sour cream.
Transfer soup to a blender, add cheese and lemon and puree until smooth. (be careful while pureeing hot ingredients- you may need to blend half of the soup at a time.)
Season with more salt and pepper if needed.
The Flavor Conspiracy http://flavorconspiracy.com/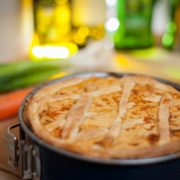 Turkey Pot Pie
2016-12-29 20:25:43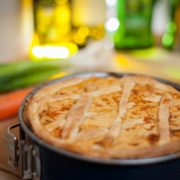 Serves 6
Leftover turkey, chicken or vegetarian alternative is added to a mix of sauteed veggies, fresh herbs and a savory sauce, then topped with an easy lowfat biscuit crust. Comfort, flavor and warmth.
For the filling
• 3 c. shredded cooked turkey
• 2 cloves garlic, minced
• 1 c. each small diced carrot, onion and celery
• 1 c. each frozen peas and corn
• 2 sage leaves, minced
• 1 tsp. each minced fresh rosemary and thyme
• 4 c. chicken broth
• 3 TB flour
• 1 ½ tsp. kosher salt
• ½ tsp. black pepper
For the biscuit dough
• 1 c. flour
• 1 c. oats
• 1 TB baking powder
• ½ tsp. salt
• 2 TB olive oil
• 2 TB coconut oil
• ½ c. plain yogurt
• Enough milk to make dough
Instructions
Dough: In a food processor combine oats, flour, baking powder and salt, puree until oats are mostly ground. Add coconut oil, olive oil and yogurt. Pulse until combined. Add just enough milk, while the machine is running, until the dough forms a ball. Transfer to a piece of plastic wrap and form into a patty about 1 inch thick. Chill for 30 minutes.
Heat a large sauté pan with a drizzle of olive oil. Add carrot and onion. Cook for 2 minutes, then add celery, garlic and herbs. Cook for 5 minutes more.
Stir in flour, then gradually add the chicken broth. Bring to a boil, then reduce heat to medium and cook until thickened to a light gravy consistency (it will thicken a bit more in the oven), stirring occasionally. Add turkey and frozen vegetables, season to taste, then transfer to a 9x13 baking pan.
Roll dough out until it is large enough to cover the pan, crimp the edges. Cut a few slits in the top of the dough. Place pan on a sheet pan and then bake at 400 degrees until golden.
The Flavor Conspiracy http://flavorconspiracy.com/