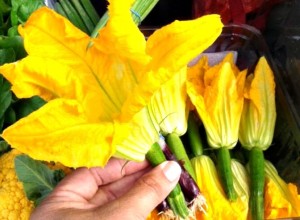 Squash Blossoms- Great For Brunch or Tapas!
First, a
Zucchini & Asparagus Frittata with Squash Blossoms and Goat Cheese
(would be something perfect to make for brunch, served along side fruit and some kick ass rosemary potatoes!).
Next, an evil little appetizer my husband & I like to make when we are out in the yard grilling and enjoying a bit of vino:
Cheese & Chorizo Stuffed Squash Blossoms with Lil Zukes Attached

.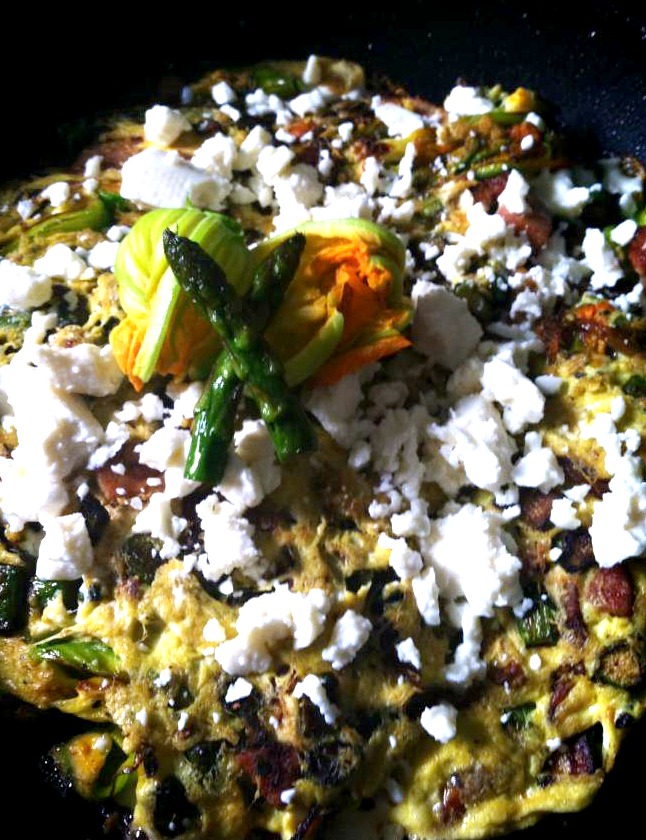 Zucchini and Aspragus Frittata with Squash Blossoms and Goat Cheese
2015-06-15 13:26:39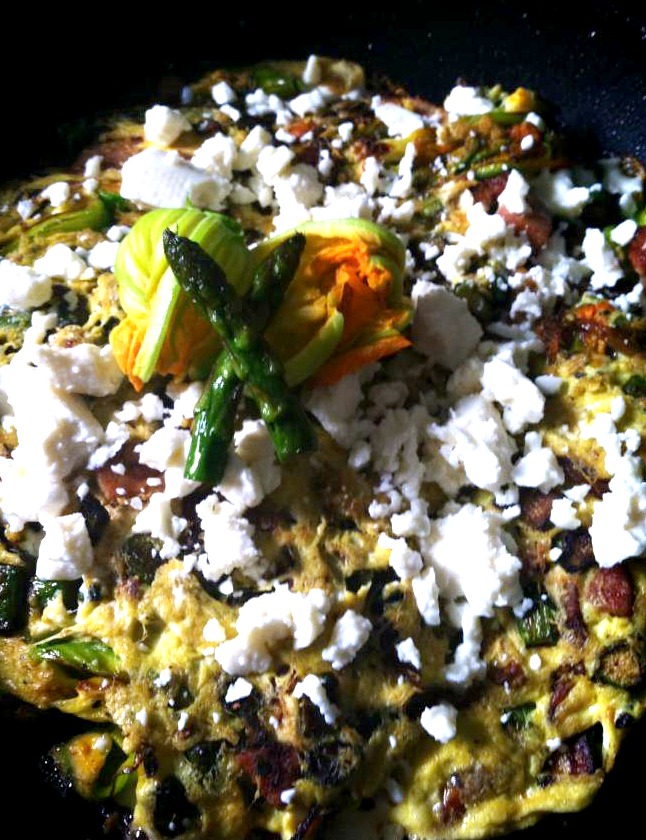 Serves 6
Frittatas are a fantastic alternative to omelets because you don't have to worry about folding or flipping them, and you actually want to get a bit of golden brown on the edges. They can be eaten for breakfast or served as an appetizer with an herb salad.
Ingredients
6 eggs, beaten with a splash of milk
2 c. small diced zucchini
10 asparagus spears
1/4 c. minced onion or shallot
1 clove garlic, minced
handful of cilantro, chopped
1 link of your favorite sausage, minced (I like chicken apple)
2 c. roughly chopped squash blossoms (about 6 whole blossoms)
1/2 tsp. kosher salt
1/4 tsp. chili flakes
4 oz. chevre (goat cheese)
Avocado or Grapeseed oil
1 TB butter
Instructions
Trim the bottom inch or so of the asparagus. Discard the tough bits. Trim about 2 inches of the tips, saute them for just a couple of minutes, then set aside for using as garnish. Take the remaining 4 inches of the asparagus spears and finely slice them.
In a large non-stick, oven-proof, saute pan, melt butter with a drizzle of oil. Add onion or shallot. Cook for 2-3 minutes, then add diced zucchini, garlic, sausage, sliced asparagus spears, salt and chili flakes. Saute for 2-3 minutes, over high heat. Stir in eggs.
Stir and rotate the mixture using a rubber spatula for a few minutes, then reduce the heat and stir in the chopped squash blossoms and cilantro. Use the spatula to spread the egg mixture out in an even layer. Transfer the pan to the top shelf of a 425 degree oven. Bake for approximately 6 minutes, or until golden and set. Top with sautéed asparagus spears, goat cheese.
Serve in slices (kind of like you would serve a pizza or quiche), garnish with optional whole squash blossoms.
Notes
* One of the best ways to determine where to trim the tough bit of the asparagus is to start feeling it from the bottom of the spear. Bend it gently as you move your way toward the tip. The place where it breaks naturally, is the beginning of the tender part, so that is where you trim it.
The Flavor Conspiracy http://flavorconspiracy.com/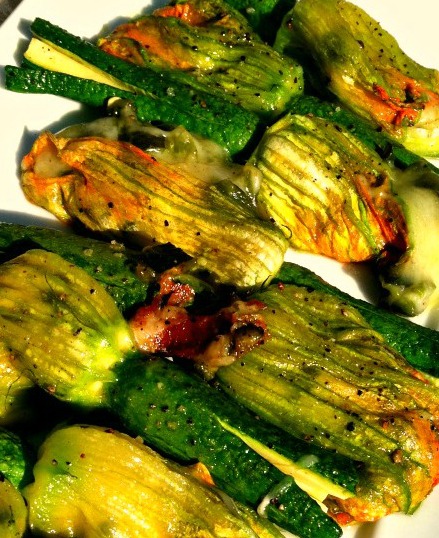 Cheese and Chorizo Stuffed Squash Blossoms with Lil Zukes Attached
2015-06-15 13:48:37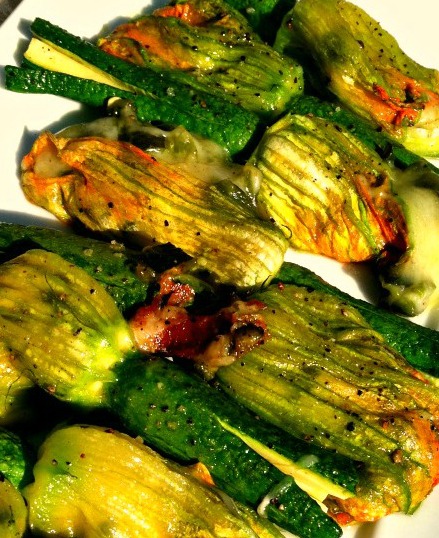 Serves 4
Obviously you can skip the chorizo, but don't you dare skip the cheese! This is delectable with gooey spicy cheese inside, the wilted blossom and the juicy, barely cooked tiny zucchini. It really does put the zucchini and blossom on a pedestal. I cook these on foil or a pan on my outdoor grill. Often times we make little street tacos with these, garnishing with a squeeze of lemon.
Ingredients
8-10 squash blossoms, with baby zucchini attached
2 cloves garlic, minced
1 c. shredded manchego cheese
1 TB fresh thyme leaves, minced
1 scallion, thinly sliced
1 serrano chili, seeded and minced
1/2 c. cooked, finely chopped chorizo
1 TB lemon juice
drizzle of olive oil
Instructions
Using the tip of a paring knife, make a slit from about 1/2 inch below the blossom all the way to the tip of the baby zucchini, making sure to leave that blossom attached. Then turn it around carefully and cut another slit, so that the end of the zucchini is frayed. This allows the olive oil to drip into the slits and lets it cook enough during the quick time that it takes for the cheese to melt.
In a bowl, combine all of the remaining ingredients, except oil. All it to sit out a bit to get warm enough that you can pack the cheese together with your hands to make a little football shaped bunch that can be stuffed inside the blossom. Transfer the blossoms to a piece of foil or a thin metal baking pan (I use the one that came with my toaster oven). Place it on a hot bbq grill.
Brush lightly with olive oil, sprinkle with salt and pepper. Close the grill lid and let them cook 6-10 minutes, until cheese is gooey and melted and zucchinis are juicy, yet still a little firm. Serve with a bit of lemon.
The Flavor Conspiracy http://flavorconspiracy.com/