This summer I am jumping back on my healthy eating wagon (who's with me??) and literally indulging my ass off (okay getting some regular exercise, sleep and plenty of water will help, too.) I have decided to simplify my snackage and created a list of just four super snacks that will help me stay fit, satisfy my constant need to entertain my mouth with crispy treats; and reduce the guilt associated with that need! Oh and bonus, all of these things are super affordable, so no expensive diets to be managed. Our summer super star snacks are: Cabbage, Jicama, Asian Pears and Daikon Radish.
Just a bit about how to treat these guys:
Cabbage- Cut it in half toward the stem end. I usually discard the one outer layer to get down to the fresh bit. Rinse in cold water, then cut each half in half. You can now cut out the core and very thinly cut the cabbage, as it is already layered for you (fancy word would be chiffonade). so it looks like this: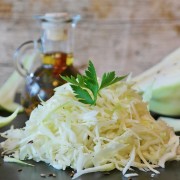 Jicama- Choose one that isn't cracked and has a pretty smooth skin. Cut it in half, place it cut side down on your board and use a knife to carefully cut the peel off. Then you can make thin slices and julienne it into matchsticks like this: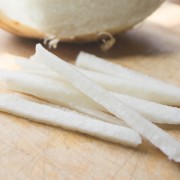 Asian Pear- Rinse it in cold water, then cut it in thin slices from the outside, cutting toward the core the way I do with an apple. Each slice then gets julienned into matchsticks:

Daikon Radish- Peel it, or not. Cut slices across and then finely julienne, like I did with the red radish in the pic below. What is even nicer is that Daikon radish is much bigger, so it also allows you to cut it into thin chips to be used for eating dips or spreads, instead of crackers.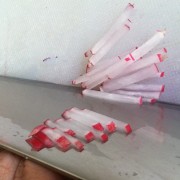 And now my recipe for a super easy, fresh and crunchy, guiltless, sinless salad; using all of our "Fab Four For Fab Health" ingredients. Eat as much as you like, go ahead and indulge! Even if you eat the whole entire batch of salad you are still coming in at below 150 calories and getting a whopping 14 grams of fiber, so you can turn this snack into a meal by adding some protein and a handful of arugula.
Zhee Zhee's Sinless Summer Slaw
2016-07-13 22:56:24
Fresh, super good for you, crunchy, tangy, a smidgen spicy and a hint sweet! Eat it alone or topped with protein and some arugula.
Ingredients
1 cup finely chiffonade cabbage
1 cup finely julienne Daikon radish
1 cup finely julienne jicama
1 medium sized Asian pear, julienne
1/2 bunch of cilantro, finely chopped
2 scallions, sliced thin
1Tablespoon Tamari or soy sauce
juice from 1 lime
1/2 teaspoon toasted sesame oil
1/2 of a serrano chili, minced
1 clove garlic, minced to a paste
sprinkle of sea salt
Instructions
Toss it all together and enjoy. Done.
The Flavor Conspiracy http://flavorconspiracy.com/