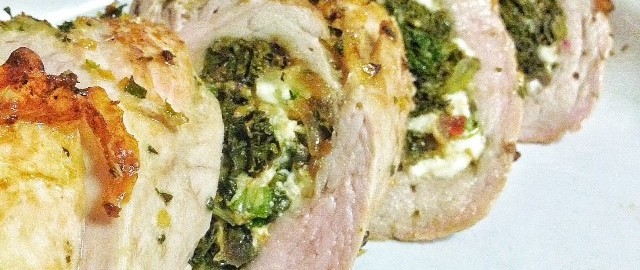 Sorry to brag, but so much of who I am as a director of delicious indulgence and a creative culinary artist has to do with an incredible group of supportive friends and family. They are ever willing to taste, explore and share my culinary adventures.
I was so lucky last Saturday to be able to cook for two of my long time friends, Idalia Frazier and Colt Belmonte, who were visiting from Homer, Alaska; where they are chefs and restaurateurs. And my other beautiful friends, Dave and Becca Berggren offered their kitchen for me to play in.
The menu had to be delicious, but needed to be Atkins friendly…yes most chefs would cringe..but I love a challenge!
MENU
Zucchini Wrapped Feta
Gremolata Crusted Pork Tenderloin Roulade with Kale and Parmesan
Salad of Roasted Cauliflower and Green Beans with Spicy Shrimp & Sunflower Seed Vinaigrette
Spaghetti Squash Carbonara

Okay, so we started off with some good quality tequila, splash of sparkling water and a good amount of fresh squeezed lime over ice….low carb, refreshing and gets the giggles flowing:)
Mix some sliced scallions, cracked black pepper and feta cheese with a fork. Set it aside.
Cut a zucchini into thin strips, lengthwise with a large sharp knife.
Roast those strips drizzled with a pinch of salt and some olive oil on a sheet pan at 400 degrees…just until flexible.
Carefully place a pile of scallion feta mixture on one end and roll those babies up.
Be careful! These are so delicious that they might disappeared before they can be plated (and photographed). Just sayin'. Woops.
Next on the prep list is getting the pork tenderloin, butterflied, covered with plastic wrap and then pounded with a sauté pan until it is about 1/4-1/2 inch thick. Saute pans are my tool of choice because you get more even coverage without tearing the meat. Look at that meat beating action! The roulade sounds fancy, but it is super easy as long you get the meat pounded thin enough and you have some tootpicks or twine ready on the side for keeping it together as it cooks.
It will then get seasoned with salt and pepper and Gremolata and rest while you prepare the filling for the roulade.

For the filling, a whole bunch of kale was cleaned, big stems removed and then rough chopped. I sautéed it for just 5 minutes with olive oil and a few cloves of garlic. A few fat pinches of salt and pepper went in then a big handful of shredded parmesan.

Turn the heat off, let the cheese kinda stick to the warm kale and get ready to stuff the pork tenderloin.
Take about a cup of filling and pack it down the bottom of the piece of pork. Then tuck and roll tightly. Secure with toothpicks along the seam (kind of like sewing).
Rub the whole outside with Gremolata. The recipe for Gremolata: 1 bunch finely minced parsley, 4 cloves minced garlic, I also added 3 TB fresh thyme and the minced zest of 2 or 3 lemons. It smells divine and really gives a bright and herbatious flavor to the meat.
Sear those babies in a hot pan with a little olive oil until browned.
Transfer them to a sheet pan (I used the same one that I cooked the bacon on and didn't get rid of the grease!!! OMG extra porky delight! Save the sauté pan cause it is full of fond (tasty bits from the meat browning).
In the oven they go….400 degrees for about 30 minutes. I cook my pork until it is medium and still a bit pink in the center so it is tender and juicy. I don't want to serve my guests pork jerky!
I pulled them out and let them rest, tented with foil for about ten minutes so the crazy boiling juices on the inside would calm down and go settle back into the meat. (While they were still cooking I roasted the cauliflower for the salad and blanched the green beans.)
The slicing happened after the pork had a chance to rest…cutting it on the bias gives a beautiful cross section of filling and meat. mmmm
FYI:
I stuffed three pork tenderloins that night. If you are cooking for less people use only one or two, the filling is delicious the next day tossed with a salad or just eaten as a side dish.
Thinly slice a head of cauliflower and roast it on a sheet pan with kosher salt and a drizzle of olive oil and a handful of minced onion until some is charred, most is golden and tender…about 20 minutes at 400 degrees.
Marinate a pound of large shrimp (peeled, deveined and tail on) in 3 cloves of minced garlic, 1 tsp. smoked paprika, 1 TB lemon zest, 1 TB lime zest, 1 TB crushed red chili flakes, 1 minced Serrano, 1 tsp. kosher salt and a good drizzle of olive oil.
Let them sit for about 30 minutes, then get a super large sauté pan really hot with a little oil and sauté them just until they are pink…do not over cook these beauties!
The dressing for the roasted cauliflower and green bean salad…so easy and creamy and nutty! In the blender went juice from two lemons, 3 cloves garlic, 1 cup roasted sunflower seeds, 2 scallions, a tablespoon of soy sauce, some chili flakes, about 1/4 c. olive oil and 2 TB of dijon mustard. While it is pureeing in the blender, add just enough water for it to thin out and become super creamy. oooo la la!!
The roasted cauliflower and blanched green beans were tossed in the creamy sunflower seed vinaigrette, fresh cilantro and mint and then surrounded by the spicy marinated shrimp that were sautéed in a super hot pan with a bit of olive oil.
Spaghetti squash gets cut in half lengthwise, then seeds scooped out. It goes onto a baking dish face down in two inches of boiling water with a bit of salt. Cover it with foil, pop it into a 400 degree oven and roast it for half an hour. Use a fork to shred out the meat and get it ready to toss with the sauce.
I start my carbonara by sautéing 2 sliced scallions and 3 cloves of minced garlic for just a few minutes in a touch of olive oil. Sprinkle in some salt and chili flakes then get ready to add the peas. About a half of a package.
I'm not a fan of frozen vegetables, but frozen peas are quite wonderful. I jump on fresh peas when they are available..these particular ones make a really good substitute. Add a half of the package to the pan and about 2 cups of chicken broth…bring it to a boil.
Let the sour cream melt in while the pan is still on high heat, then turn it down and simmer it for 2-3 minutes. Usually the Carbonara sauce would be full of egg yolks and heavy cream. This one is super decadent, but uses chicken broth and then is finished with a few dollops of sour cream..so it is tangy and not as heavy as the other ones you might find out there. Being this light just gives us permission to add more bacon!
Evil goodness strikes again…thick cut bacon, roasted in the oven so it cooks to a gorgeous even crisp. Crumble into the simmer sauce with the peas. Don't ask me how much, but it was most likely 8-10 strips…possibly less because everyone that walked by kept grabbing nibbles of bacon off of the sheet pan.

Add a bit few ladles full of hot chicken broth to thin the sauce out a bit. Remember that it will be tossed with the spaghetti squash and a good amount of parmesan before going into the oven; so you don't want it to be too thick.