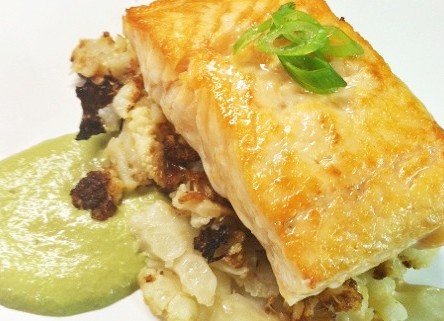 I hadn't hung out with my pal, Lance, in a million years; so when he was going to come over to my pet sitting place for dinner I got excited! He told me he needed something that was delicious and healthy.
Wow, my specialty – high fiber, less empty carbs, healthy oils, fresh, only natural sugars.
MENU
Fennel and Orange Salad with Feta and Organic Bebe Spinach
Seared Salmon with Roasted Cauliflower and Scallion Sauce
Caramelized Bananas w Greek Yogurt, Sunflower Seeds and Honey Almond Crust
Fresh and simple, juicy, light, uncomplicated.
Slice (almost shave) a half of a bulb of fennel. Place the shaved fennel in ice water for at least 30 minutes.
Arrange baby spinach leaves on a plate and top with orange segments, chilled fennel shavings, feta.
Dressing is super simple. Whisk together the juice of half an orange with 1 TB Dijon, 2 TB balsamic, 2 TB olive oil with salt and pepper.
Drizzle dressing on the salad. Voila!
Cut cauliflower head in half. Pro Tip: Slice it thinly across until you get pieces like this. Believe me, you get the most yummy roasty browned cauliflower…instead of the chunks most folks end up with.
Toss the cauliflower with olive oil, salt and 3 cloves of thinly sliced garlic. Spread in a large pan, then roast at 425 degrees for 15 minutes. Flip all of the pieces over and roast again until brown and caramelized.
Scallion Sauce: Slice 6 scallions, sauté them for a few minutes with one clove of minced garlic in a small amount of olive oil. Puree in a blender with salt, juice from one lemon, 1 TB soy sauce, 2 TB sesame tahini and about 1/4 c. water.
Key to the perfect seared salmon (I learned from my husband, JC Esquivel, who is the master sauté guy). Get your pan super hot, then add oil, then place a piece of salted salmon filet down. Don't touch it!!! Let it cook until that first side is golden crispy. Then flip it over and transfer it to the oven. Cook it for maybe five more minutes in the oven- it should still be a bit squishy inside.
Artfully smear sauce on a plate, top with a pile of roasted cauliflower. Lay that salmon on the cauliflower and top with a few bits of scallions— the garnish applies to the dish and is edible (rule of thumb with garnish).
Yummy dessert is super low in any refined sugar and gluten free to boot!
The crust: Mix 4 TB of almond meal with 1 TB coconut oil and 1 TB honey- oh and a pinch of sea salt. Spread into two tiny adorable baking dishes. Bake at 425, about 7 minutes and 13 seconds, or until golden.
The bananas: Slice a banana into biased 1/4 inch thick slices. Heat a dab of Earth Balance or real butter in a small sauté pan. When it is sizzling lay the slices down, and just like the fish, don't touch them! Let them cook on one side until caramelized, then flip'em and let the next side cook. Lay slices down on the crust.
It smells so buttery and sweet…and there is no added sugar on the bananas..just naturally sweet goodness!
Add Greek yogurt all melty on bananas. This yogurt just happened to have pineapple in it.
Sprinkle sunflower seeds because a smidgeon of salty is so divine.